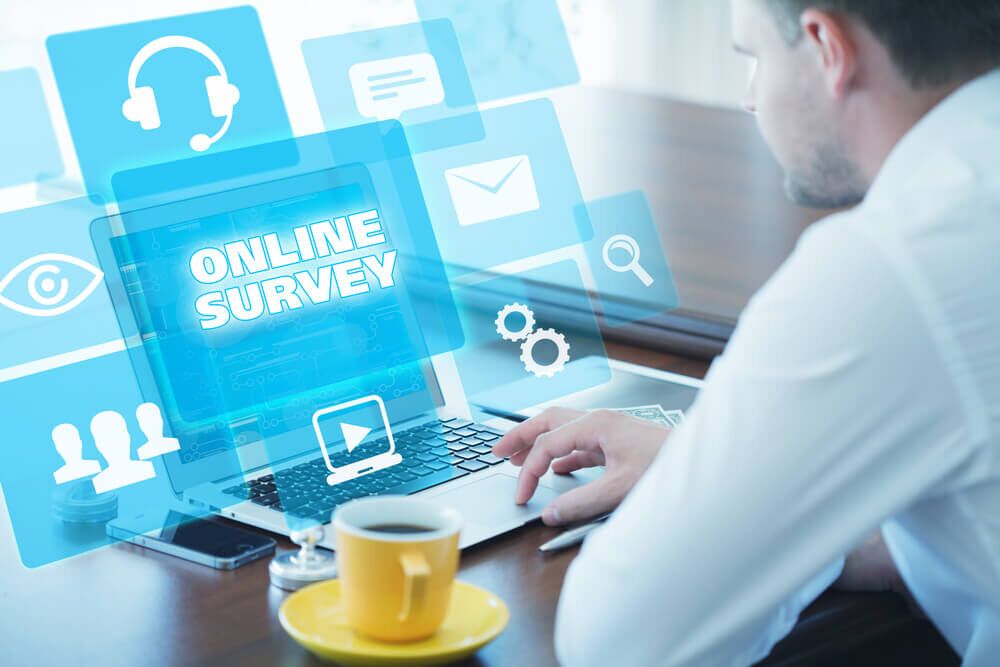 Over the past few years, online surveys have become one of the essential tools in the market researcher's toolbox—and that trend isn't slowing down anytime soon. Online surveys are incredibly efficient, allowing you to gain valuable insight from large groups of people for a fraction of the price it would take to run similar research studies in person or by phone.
Our online survey capabilities combine quantitative research experience with the latest in online research innovations. Our in-house web programmers have the knowledge of what works and what doesn't work in an online survey, and we use this knowledge to construct and test web-based questionnaires to meet your specifications.
Learn more about our online/web surveys and how it is the future of market research.
How Do I Create an Effective Online Survey?
One way to implement an online survey is through automated email surveys or manually by sending each one out individually and asking people to respond via link. This may be very time consuming.
You can also choose websites with already established communities or hire a reliable company like California Survey Research Services (CSRS). CSRS has a variety of question types and custom screen designs allowing you to truly engage your clients and survey-takers.

Maintaining Credibility of Data
There are companies that take the inexpensive route and do it themselves. They use free online surveys, but the results are often not what they are looking for.
Online surveys are conducted through an online platform and can be completely anonymous, making it more likely that participants will provide unbiased answers. Plus, if you choose a reputable survey platform, results are available instantaneously, so you can act quickly on what they reveal. Also, if there is a particular demographic or audience that doesn't like taking surveys on a laptop or desktop computer, companies like us at California Survey Research Services offer mobile-friendly platforms to reach them on their smartphones and tablets.
Importance of Screening Respondents
If you plan to use an online survey for your campaign, it's crucial to have a solid screening process before starting. A good screening process should filter out participants who are not ideal respondents. For example, if your survey is intended for mothers with children under 18 years old living at home, you would want to screen out anyone without children or anyone whose children no longer live at home. This will help ensure that your results are more accurate and useful for decision-making purposes. It can also save you time and money because only people who meet your criteria will complete your survey.
This also goes in line with efficiency and the ability to screen out duplicate submissions. It's more than just "any survey." California Survey Research Services exceeds those expectations.
Conduct Reliable Online Surveys with CSRS
Thanks to powerful technologies, such as our Decipher© Softare developed by FocusVision,© online surveys have become a reliable way to collect data from large sample sizes.
CSRS programs online surveys utilizing industry leading Decipher© Software developed by FocusVision©. This powerful software has a variety of question types and custom screen designs allowing you to engage your respondents. It supports images, audio, and video. It is a fully mobile-optimized software allowing you to reach survey participants anywhere at any given time on the device of their choice.
CSRS takes added steps to ensure that unqualified respondents are screened out and duplicate submissions are prevented. CSRS provides timely status reports on the progress of the study and can even provide constantly updated live data reports to our clients via the Web.
Work With a Trusted Research Company
California Survey Research Services is a trusted online survey company in California with strict quality control practices. We offer professional online surveys at affordable prices for all your market research needs. Our team has decades of experience in helping our clients gather critical information about their products, services, and potential customers. Contact us today to learn more!
To view an example of an online survey, please click on this link.